Blog: Danny, the Champion of Excellence – and how it's enabling Lincoln City to achieve its goals
April 11th, 2018
Investing in excellence has led to a Wembley triumph for Lincoln City. Congratulations to Danny Cowley and his team.
Lincoln City returned from their first visit to Wembley on Sunday (April 8) with the English Football League Trophy after beating Shrewsbury Town 1-0.
It's a big result in another successful season for the club, but there's more to Lincoln City's heroics on the football pitch than first meets the eye.
Anyone (like me) who's remotely interested in football will know that the club also famously reached the 2016/17 FA Cup quarter finals, memorably beating Ipswich Town, Brighton & Hove Albion and then Premier League Burnley.
It was the first time a non-league club had progressed to the last eight of the Cup since 1914. The Imps went on to win the Conference and gain promotion to the Football League, where they are currently on course for a place in the promotion play-offs.
I was lucky enough to be at a recent leadership event where team manager, Danny Cowley, the mastermind behind the on-field heroics, revealed the secrets of his success. 
And what he described was a perfectly-executed excellence strategy that any successful business leader, let alone Pep Guardiola or Jose Mourinho, would be proud of.
At Investors in Excellence we help all types of organisations deliver a vision for success. We play a vital part in a client's journey to excellence and work in partnership to formulate a strategic excellence framework with excellence objectives to deliver even greater results. Investing in excellence is the golden thread that runs through an organisation and, as seen at Lincoln City, it produces real results.
They have great leaders (Danny and his brother Nicky, who is assistant manager) who know that success depends on the performance of everyone at the club – both off the field as well as on it.
Danny spoke of the alignment of goals (the golden thread) being key to success with new methods built on old school values that engage the players and employees (and supporters too) and help them to deliver exactly what's required.
The results speak for themselves and the goals are being achieved, not just by the strikers but by everyone at the club. Sunday's trip to Wembley could be the first of many.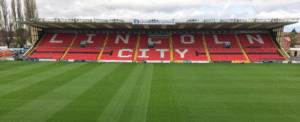 Judy Hart, a Norwich City fan, is chief executive of Investors in Excellence
---
Get in touch
Resources