Your journey to becoming certified as an Investor in Excellence begins with a commitment from your organisation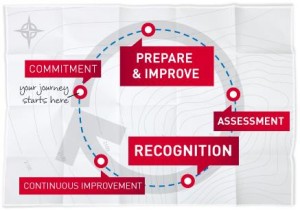 The first step on your journey is to register your commitment to achieving the Investors in Excellence Standard.
In recognition of your commitment you will receive:
A signed certificate to show your people, customers and other stakeholders that you're committed to excellence
A commitment logo which can be used on websites, stationery, publicity materials and email footers
A copy of The Investors in Excellence Standard
Access to your own Investors in Excellence 24/7 cloud storage system that enables you to manage evidence and documentation effectively
The typical timescale from commitment to assessment is around 12 months. Some organisations may progress more quickly to the assessment stage, in perhaps six months or even less, while those at the very beginning of their excellence journeys may take a little longer.
Start your journey here
IiE Standard
The Journey
Resources